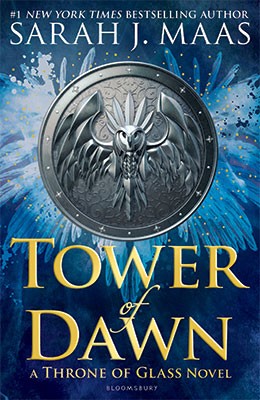 Title: Tower of Dawn
Author: Sarah J. Maas
Series: Throne of Glass #6
Genre: Fantasy
Pages: 664
Published: 2017, Bloomsbury Publishing
My Grade: 5 out of 5 spiders
GOODREADS' DESCRIPTION
Chaol Westfall has always defined himself by his unwavering loyalty, his strength, and his position as the Captain of the Guard. But all of that has changed since the glass castle shattered, since his men were slaughtered, since the King of Adarlan spared him from a killing blow, but left his body broken.
His only shot at recovery lies with the legendary healers of the Torre Cesme in Antica—the stronghold of the southern continent's mighty empire. And with war looming over Dorian and Aelin back home, their survival might lie with Chaol and Nesryn convincing its rulers to ally with them.
But what they discover in Antica will change them both—and be more vital to saving Erilea than they could have imagined.
MY REVIEW
I have been waiting for a year to find out what happened to Aelin and was very dissapointed when I learned that the next installment in the series would not be about her, but a longer version of the short story Maas had originally planned, about Chaol. Not dissapointed now though. This book was fantastic! But the cliffhanger from Empire of Storms is still very much  applicable though with both of these ending at approximately the same time.
She is a bit predictable though and as soon as Chaol and Nesryn were separated, you could tell what would happen with that couple. For example. But there was also some plot twists that I did not see coming that will make the next book even more interesting.
Do I really have to write any more? If you have read anything by Sarah J. Maas, then you know her type of writing, and this is exactly her writing. If her name was not on the cover, you would pretty fast guess that is was her. Definitely not a bad thing but you kinda know how the story will go from the start.
Sarah J. Maas is one of my favorite authors and my biggest inspiration to my own book so a 5 is a given!